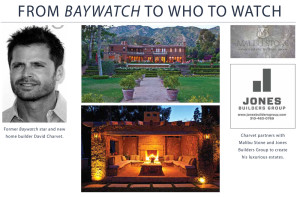 Recently David Charvet, one of the partners of Malibu Stone, a custom stone and fabrication company located in Malibu, California was interviewed by luxury real estate firm, The Radcliffe Group to find out what the television, film and world wide recording artist has done since he hung up his celebrity "Hollywood" status. Titled, "From Baywatch to Who to Watch", David has turned his artistic and creative skills of entertaining his fans worldwide to becoming a true master of creating high-end luxury homes in the Los Angeles area for a whole new type of audience. One of the keys to his success was to partner with Malibu Stone and Jones Builder Group to create his signature "Charvet Estates".
When asked how he became involved with Malibu Stone, David replied,
"As the grandson of a passionate man who owned a steel company back in France, it was inspired on the manufacturing legacy and I realized that dream with Malibu Stone. I decided to open my own stone company a year ago because I knew how many hands quality stone went through before finding its place in a home. I was so in love with stone…Malibu Stone is able to provide timeless product, ranging from reclaimed wood from across the country, to century-old stone fireplaces taken from castles from around the world. Thanks to the experience of Dale Lobato, Malibu Stone President,he is able to hunt down the most unique materials from a round the world to create the perfect custom look for a client." 
To read the entire interview with David, please click here.